Music lovers get ready — downtown Las Vegas is about to be the site of one of the year's most anticipated music festivals. The Life is Beautiful Festival has been running since 2013, but this year will be one of the biggest ones yet. Some huge names playing at this Las Vegas music festival include Billie Eilish, Green Day, Tame Impala, HAIM, and ASAP Rocky.
However, the Life is Beautiful Festival is also a great way to find exciting up-and-coming artists. We've put together a profile on three of our favorite emerging talents that will be playing — Amy Allen, CAAMP, and EKOH.
Amy Allen
Amy Allen is a rising star in the music world. She has written hit tunes for huge artists, including Selena Gomez, Halsey, Harry Styles, and Camila Cabello. As a singer, she made her name playing folk and bluegrass music at bars and pubs across America — particularly in Maine, where she was born.
Allen attended Berklee College of Music in Boston and received guidance from singer and producer Kara DioGuardi during her time there. This expert teaching paid off — she was named on the Forbes 30 Under 30 list for music in 2020. Although fans worldwide have enjoyed her songs for years, this year will be her first time performing at the famous Las Vegas music festival Life is Beautiful.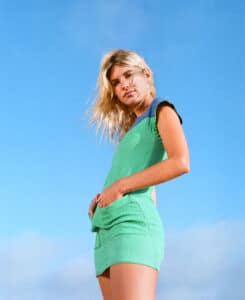 | | |
| --- | --- |
| Genre | Indie Rock |
| Top Songs | Queen of Silver Linings (2020), What a Time To Be Alive (feat. Pink Sweat$) (2020), and Difficult (2020) |
| Related Bands | Violet Skies, Charli Adams, OSTON, and Joy Oladokun |
| Related Work | In addition to her songwriting prowess, Allen played bass in her sister's band Jerks of Grass. She also featured in indie-pop band Amy & The Engine. |
CAAMP
CAAMP is an American folk band originally hailing from Athens, Ohio. The band originally formed by Taylor Meier and Evan Westfall, who have been friends since childhood. Taylor began his career playing in the coffee shops of Athens before Evan joined him and CAAMP was born.
The band has developed dramatically since it released its first album in 2016, also titled CAAMP. The duo became a trio after recruiting Matt Vinson to play the bass guitar. This addition allowed the group to hone its folk sound, which you can hear on its most recent album, By and By.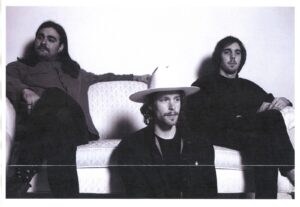 | | |
| --- | --- |
| Genre | Folk |
| Top Songs | Vagabond (2016), All the Debts I Owe (2016), and By and By (2019) |
| Related Bands | Mt. Joy, Mipso, The Dead Tongues, and Wilderado |
| Related Work | CAAMP has worked with Booty & the Kidd and Jesse Henry |
EKOH
EKOH is one of the many local talents who will be performing at the Las Vegas music festival. His most recent release, The D3tour, shot straight to number two on the iTunes Hip-Hop charts — and he is set for even more success. The rapper has recently announced a US-wide tour, including a Friday evening spot at the Life is Beautiful festival.
EKOH's career has gone from strength to strength in recent years. He's seen a steady rise in popularity since his first album, Zzyzx Road, in 2013. However, current releases like The Detour (2018), The De2our (2019), and The D3tour (2021) have brought him new attention. The Life is Beautiful Festival is a great place to catch him as his star power increases.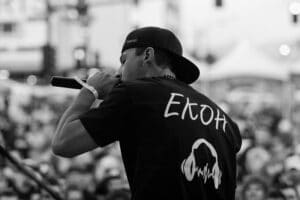 | | |
| --- | --- |
| Genre | Rap / Hip-Hop |
| Top Songs | Pickle Rick (2018), butterfly (2021), and Villain (2021) |
| Related Bands | Mass of Man, Odd Squad Family, VI Seconds, and Blingx |
| Related Work | EKOH has collaborated with various artists, including Enkay47, Futuristic, Twiztid, and Locksmith. |
The Life is Beautiful Festival features talented emerging musicians
No matter your preferred genre, there are amazing acts that you can see at Life is Beautiful. Although it's natural to check out the bigger shows, you should also look for upcoming talent at this Las Vegas music festival. Amy Allen, CAAMP, and EKOH are just some of the great emerging artists performing this year.
Life is Beautiful is a connective and immersive experience of music, art, comedy, culinary & more nestled within the city streets of Downtown Las Vegas. Whatever your interests, something exciting is there for you at the festival.