Are you a fan of hard-hitting comedy? Are you taking a trip to Las Vegas? Or maybe you've never been the "comedy type," but you figured it's worth seeing one of the many things that bring so many people to the Strip each year.
We have you covered. Below, we will tell you about the best 3 Las Vegas comedy shows you have to see.
Terry Fator: Who's The Dummy Now
Terry Fator is The King of ventriloquism. His Las Vegas comedy act includes an uncanny impression of Elvis (songs and all), but impressions are not the most impressive part of his comedy show.
This comedic illusionist is capable of conjuring belly-shaking laughs and wide-eyed disbelief from his audience members. He doesn't even need to move his lips, either.
The Gang is All Here
Terry Fator's ragtag puppet crew does all the speaking for him. They love getting audiences riled up with their mischievous antics and beautiful voices.
You will see plenty of familiar faces, like Elvis and Elton John. Both of which will give you the performance of a lifetime, thanks to Fator's unique ability to impersonate a variety of celebrity singers. You may also hear the likes of Cher, Etta James, and even Garth Brooks. Talk about range!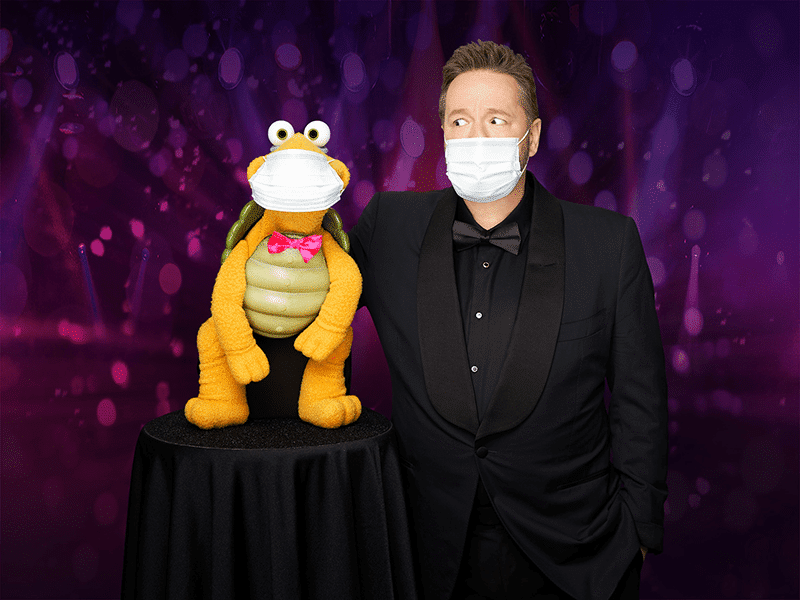 Fun For All
Fator offers a family-friendly Las Vegas comedy show where everyone can view his outstanding puppeteer skills. And really — what's better than a puppet serenading you?
If you are on the Las Vegas Strip, head to the Mirage hotel for his 70-minute show. You are in for a full evening of expert vocals and comedic banter.
Piff the Magic Dragon
If you are into off-beat, dry humor delivered by a grown man in a dragon costume who refuses to call himself a comedian — look no further. Piff the Magic Dragon is the Las Vegas comedy show for you.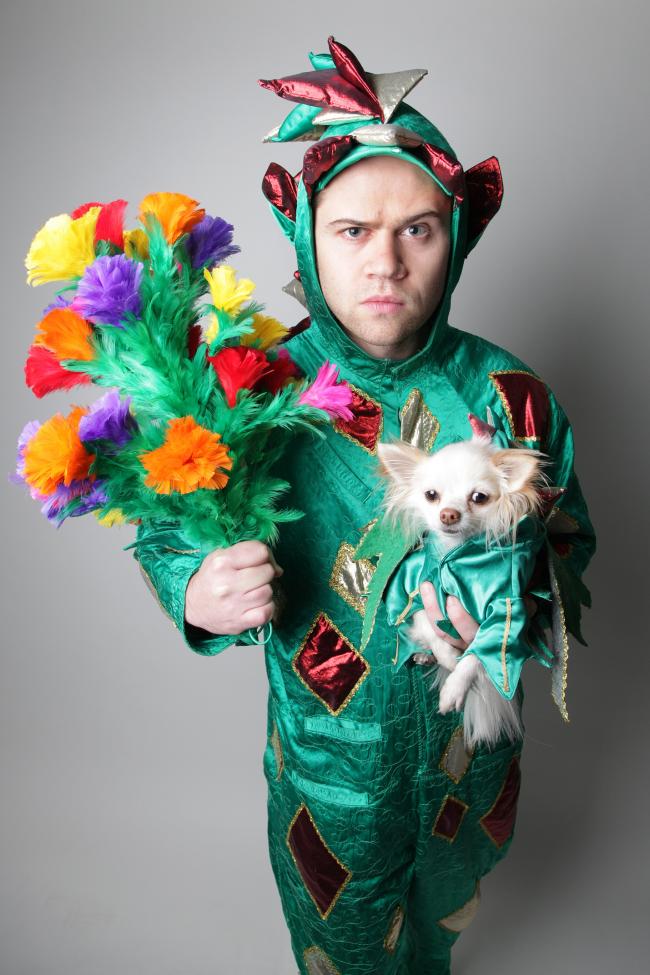 Piff likes to focus on wowing the audience with his magic, but the effortlessly funny America's Got Talent alum has captured audiences with his wit as well.
Out of all the Las Vegas comedy shows, this one takes a unique spin on, well, everything. It's a magic performance featuring two lovable fictional characters: Piff the Magic Dragon (John van der Put) and his trusty sidekick, a little Chihuahua called Mr. Piffles.
Piff has gone on several tours, including opening for Mumford and Sons and even his own American tour. He first appeared on America's Got Talent and has since been on Penn & Teller: Fool Us. This funny dragon gets around!
Sidekick Shenanigans
Piff the Magic Dragon will have you laughing with his dry, British humor and have you gasping in amazement with his insane tricks. But he won't be the only one entertaining you!
Mr. Piffles is equally talented and (perhaps even more) famous. Plus, he's got the charm all rescue dogs have. This sidekick pup is eager to get in on all the magical shenanigans Piff comes up with. You will see Mr. Piffles embark on his own series of adventures, including levitating and launching himself from a cannon. And it's all okay because, like Piff, Mr. Piffles is a trained professional.
Piff has welcomed a new face to his stage, too — Jade Simon. Jade is a triple threat, showing off her music, theater, and dance skills. This Showgirl Assistant has also adopted a series of nicknames during her time on the dragon's stage (see: The Girl with the Dragon to Do List). The professional Vegas showgirl performer opens the whole act and guarantees to get the audience energized.
An Evening You've Never Seen Before
Throughout his 75-minute show, you'll see it all — talented showgirls, a tiny floating dog, and unexplainable magic that is sure to leave you amazed.
This show has been a headliner for five years running at Flamingo Hotel. You can attend performances on Thursdays, Fridays, Sundays, and Mondays. The tickets tend to sell out fast, so we recommend reserving your spot as soon as possible. The comedy show welcomes guests who are 13 and up.
Mike Hammer Comedy Magic
Looking for a little edge in your night? Mike Hammer hits the nail on the head with his thrilling combo of magic and comedy.
His 25 years of experience shines through his magical evenings of gags, pranks, razor-blade swallowing, and chaos in every form. Each night is unique and frequent attendees will tell you: you'll never see the same thing twice. Mike is an improv whiz and agent of mayhem — he knows how to shake things up and leave audiences on their toes.
Be A Part of Mike Hammer's Show
Get ready to get Hammer'd! These shows include a large amount of audience participation. If you're interested in becoming part of a Las Vegas comedy show act, this is your chance.

Mike Hammer ensures each show revolves around his audience. This is not your typical stand-up comedy routine, after all. Hammer's insane improv skills will charm you, and he never fails to let you know that everything he is doing on stage is for you. If you end up engaging in a little banter, don't think you're safe from a quick-witted comeback.
Get Hammer'd
Mike Hammer will take your night to new heights. He wowed like never before with his death-defying tricks and cutting-edge humor.
If you want to drink a tantalizing cocktail of guttural laughter and shocked gasps, you better act fast. Tickets to the Mike Hammer Comedy Show are in high demand. This high-intensity show hosted by the Canyon Club is the perfect way to start or night, and everyone above the age of 13 is welcome.
Viva Las Vegas Comedy Shows!
In between your casino escapades and skyscraper rollercoasters, make sure to make room for full-bellied laughter. You don't want to regret not seeing some of the most excellent Las Vegas comedy shows the world has to offer.
If you are into funky puppets and soulful impersonations, then Terry Fator's your man. If you prefer the wit and whimsy of a dragon-dress Brit and his canine sidekick, Piff the Magic Dragon is the show for you. And if your humor and magic with a little edge, then check out what Mike Hammer is offering. No matter what show you choose, you're in for a full evening of laughs when you attend a Las Vegas comedy show.